Absolutely Stunning & affordable! Lancaster Flower Co. truly turned my dream wedding flowers in a reality. The bouquets, centerpieces, and additional decor were mor beautiful than I could have imagined. Everything was just perfect and Lancaster Flower Co. is so lovely to work with!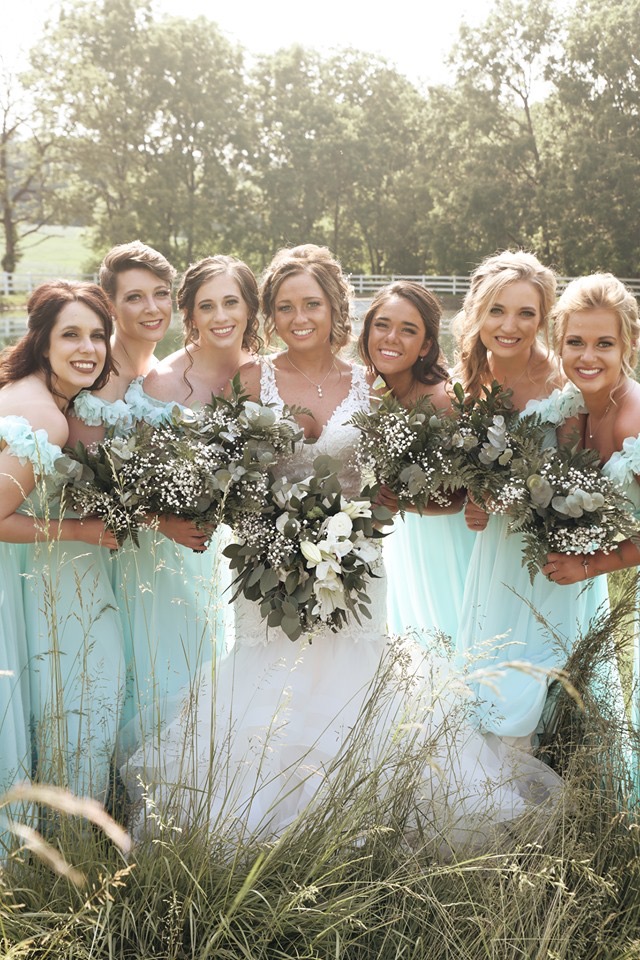 I am not a big flower person and wanted mainly greenery. Lancaster Flower Co. did exactly what I wanted and was very budget friendly. My flowers were BEAUTIFUL. They delivered the flowers early and even helped me decorate the arch (I was struggling big time with it). LFC are such hard workers and so dedicated to what they do. The flowers were perfect!
Hannah Frankenfield: 8.21.18
Lancaster Flower Co. did an amazing job! We had a brunch wedding at The Grandview Vineyard and they came bright and early to set the centerpieces up and made everything look gorgeous! They we super flexible, professional, and helped make my vision come to life within my budget. They did such a great job! I would highly recommend Lancaster Flower Co.
Ashleigh Grimail
May 12. 2018.
Lancaster Flower Company (LFC) + Nadine Clay were beyond incredible to work with. From our initial conversations she was prompt with responses, beyond helpful every step of the way while sharing beautiful ideas and techniques. She was incredibly flexible when I wanted a specific flower or look. It was a great experience to not have to worry about anything with Nadine on my wedding day. She stopped down to personally deliver the bouquets which were stunning! I couldn't be happier with the results, her services are exactly what a bride-to-be is looking for. I will surely be using her services for any upcoming events and recommending to anyone in the surrounding areas!
Glasbern Inn, Fogelsville, PA
Sarah Gutgold
April 2018
The flowers for our wedding in April were just absolutely gorgeous!
Lancaster Flower co. did such an amazing job, was so easy to work with, and very professional! Would definitely recommend!
Alysha Townsend
2017
Lancaster Flower Co. was absolutely amazing to work with! Every part of the wedding from the bouquets to the ceremonial arch to the dessert table and centerpieces were breathtaking! She was right on time and extremely organized!
I will be recommending her to anyone getting married!
Breezy Newswanger
Summer 2017
Lancaster Flower Co. was great to work with and extremely helpful!
After going over some of my thoughts and visions, she was able to give me an even better outcome at such a great budget price! Very flexible and helpful!
I would highly recommend Lancaster Flower Co!
Caroline Gerdes
Fall 2017
Lancaster Flower Co. is the sweetest and so very professional. I contacted them pretty far in advance and they worked with- and met with me- throughout the process. They made sure they were clear on exactly what I wanted, and provided absolutely beautiful florals and greens for my October wedding. They truly listened to my vision (and budget), and was able to provide me with everything I asked for. Their flexibility and knowledge of in-season florals helped to bring my vision to life. I would 100% recommend using Lancaster Flower Co!
Brittany Horst
Summer 2017
Lancaster Flower Co. was absolutely amazing for my wedding. They did a phenomenal job recreating my ideas and I truly could NOT have been happier with my flowers for my wedding! If I ever need flowers in the future, they will be my go-to! I love the time they took to get to know me and my wedding and the end result was just absolute perfection. I would recommend them to anyone looking to be dazzled with beautiful flower arrangements on their wedding day.
Brick Gables, Lititz, PA